The brewery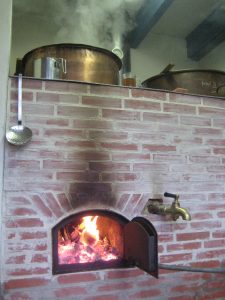 Brewery Vandenbroek is a small family brewery. Craft and trust in nature are our driving forces. The brewery-housing and brewery equipment are fully self-designed and self-built as a lambic brewery. We have two brass woodfired coppers, a traditional cooling tun where -after hours of cooking- the wort will cool the night over and a beer cellar filled with oak barrels.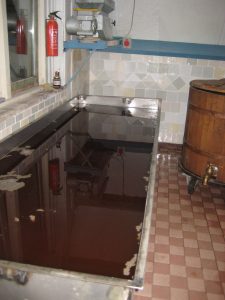 This creates the base for some very special beers. The brewing process is based on pure manual labor with a minimum of machines. That's why we call our beers handcrafted. The fermentation and ripening of our beers are all natural, without any artificial cooling, just as in the old times. As a result, the seasons clearly influence the taste. We believe that high quality does not necessarily mean constant quality. Plan to be surprised. Cheers!
Our history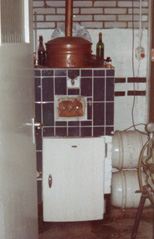 The brewery has its roots in the 70s in Brabant (Eindhoven, the Netherlands). At the age of 16, Toon is a part-time brewer's assistant at "De Kroon" brewery in Oirschot. During this time, he gets acquainted with the complexities and nuances of the brewing process. At the same time, he builds his first house-brewery with a 1 hL. copper at his parental home. With the aid of the yeast strains of De Kroon Brewery, bottom-fermentation yeast beers are brewed. Over time he gets familiar with other types of beer, such as Trappist beers. To brew these types, he required top-fermenting yeast, which was difficult to find in the Netherlands at the time. So he drove on his moped to Westmalle in Belgium, to get this type of yeast. Later, a Belgian friend shared a very special Geuze and Kriek beer – uniquely labeled, with only a chalk stripe. The fantastic taste of this beer made a great impression on him and was never forgotten…
In 1980, Toon moved to the quiet province of Drenthe in the Netherlands to start a biodynamic dairy farm with a cheese dairy. He also filed for a brewing license on the farm. The license was acquired, but the farming work demanded so much of his time that there was no time for brewing. After a severe crisis in the agricultural sector in the Netherlands, he decided to stop farming. He moved to a nature reserve near Midwolde, further north in the Netherlands. Here, together with his wife he renovated and rebuilt an old farm with a large barn which became the brewery. Since 2007, together with his wife, he started brewing again. First slowly to "get the feeling" back and since 2014 as a registered brewery.